Periodicals report events—from daily news stories, for-sale notices, and reviews of new novels to the proceedings of an academic conference—as or soon after they happen. "Periodical" is a general term for any newspaper, magazine, or journal that is published at regular intervals—once a day, once a week, once a month, once a quarter, or even once a year.
Whether the periodical in question is a newspaper aimed to keep the inhabitants of a city informed about current events or an academic journal designed to keep professionals in a discipline up-to-date on research in the field, periodicals speak to particular audiences at a specific moment in time. Though their news does not stay new for long, their lasting value to historians is in the thorough, idiosyncratic way they give a picture of a particular moment.
On this page, we will use the University of Wisconsin Libraries for our examples of how to search for periodicals. Though there are differences among libraries, the principles illustrated here apply to most university and public library systems.
Periodicals as primary sources
Periodicals are a great place to find the first published accounts of historical events. Say, for example, that you wanted to research the Great Chicago Fire of 1871 from the perspective of environmental history. You could begin by searching for Chicago newspapers published during the fire itself, from October 8 to October 11, 1871.
A few nineteenth-century periodicals are available through online databases to which your library may subscribe. In ProQuest Historical Newspapers, for example, you could find the Chicago Tribune of October 8, 1871, and read the front-page article, "The Fire Fiend. – A Terribly Destructive Conflagration Last Night."
By searching your library's catalog, you could find copies of other Chicago newspapers that are not available online. In the Wisconsin Historical Society Library, for example, the Chicago Evening Post from 1871 is available on microfilm, while the Chicago Times is available on paper in a bound volume.
The Great Chicago Fire was just one of many fires across the Great Lakes states in 1871. In fact, the 1871 Peshtigo fire in Wisconsin killed more people and destroyed a much larger area than the Chicago fire. By searching in the University of Wisconsin Libraries' catalog, you can find the first newspaper story of the Peshtigo fire, which is filed in the Historical Society Library's Pamphlet Collection.
The Pamphlet Collection is in the Historical Society Library's closed stacks, which are not open to the public. To see this newspaper article, you must request it from the librarian. What the librarian brings back from the closed stacks is a file folder with the October 14, 1871, copy of the Peshtigo Eagle, a single-sheet newspaper: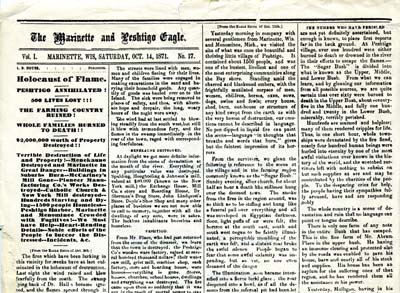 (click for larger version)
Image: Peshtigo Eagle Front Page, October 14, 1871
Periodicals like this not only give detailed accounts of the facts—who was killed, whose property was destroyed, how farmers and townspeople reacted to the fire—but also let you know how some people close to the event interpreted it.
Periodicals as secondary sources
Periodicals might be the first documents that come to mind when you think of secondary sources. Academic journals, which publish articles by scholars in a given discipline, are often the best way to learn about the latest research, especially in the sciences and social sciences.
Most academic journals publish new issues two, three, or four times a year. University libraries usually subscribe to many academic journals, and you can find their most recent issues in your library's current periodicals reading room.
Gated, online databases provide the best way to search for scholarly articles on specific topics. Libraries subscribe to these databases, which store articles from thousands of different periodicals behind a virtual "gate." In other words, you cannot find these articles through a Google search on the free, public Web.
You could begin by searching an online database for articles on the Great Chicago Fire from history journals. For example, by searching JSTOR, an article database, you could find John J. Pauly's article, "The Great Chicago Fire as a National Event," published in American Quarterly in 1984.
If you wanted to learn how ecologists understand forest fires, you could search for scientific articles on the subject in databases like JSTOR, Web of Knowledge, or Environmental Sciences and Pollution Management.
Remember, your research question determines how you use a source.
If you were researching the 1871 fires in the Great Lakes region, you would use newspaper accounts published at the time as primary sources. Recent articles about the 1871 fires in academic journals would serve as secondary sources.
If, instead, you were researching the history of fire management practices, scholarly articles on how people should respond to wildfires would be your primary sources. You could search for these articles in academic journals on forestry or environmental science published during the period you are studying.