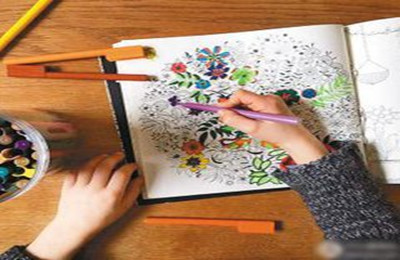 If you thought colouring books were only for kids, you are still living under the rock! Okay, little exaggeration there, but if the demand for colouring books for adults is anything to go by, the trend has picked up tremendously. The colouring books are showing up at bookstores and online stores all across the Indian market, owing their popularity to the belief that they have a calming effect.
The Rage
Confirms Sameer Mahale, Sales Head, HarperCollins Publishers India, "Adult colouring has been driving the sale of entire book category. It's hugely popular in the US, the UK, the Europe and Australia. It has also taken off in China and Japan. In India, it's gradually catching up. It will continue to grow for the next 6 months and publishers who launched in India 8-9 months back made substantial revenue out of these."
Publishers are looking at Indian themes and illustrators, owing to the demand in the local market. "Adult colouring books have been an international publishing trend for a couple of years now. Earlier this year, we've brought out our first adult colouring books with Indian themes: we felt that people who love the colouring activity would enjoy engaging with typically an Indian subject," says Udayan Mitra, Associate Publisher, Penguin Random House India.
Corporates love them too
In fact, Bloomsbury India's sales and marketing VP, Yogesh Sharma, informs, "We see a rise in demand from the corporate sector too. For a lot of organizations, colouring books provide a good avenue to engage with employees through learning and development programmes." Growing disposable incomes and desire to invest in one's hobbies have also contributed to the demand for this category, Sharma adds.
How are they different?
"The designs are more intricate and complex," says Mahale. "What sets colouring books apart from most other books is that these are designed and produced entirely with the end-user in mind - it should appeal to the reader aesthetically as well as artistically, and engage them in hours of enjoyable creative activity," he further adds.
Why colouring-in for adults?
A Delhi-based psychologist Seema Sharma says the reasons are many. "In a high-stress environment, these offer therapeutic off-screen time (away from computers and smartphones). Every different stroke activates a different part of the brain."
She enlists, these books are:
Therapeutic
Meditative De-stressing
Relaxing
Calming
Mindfulness
Could be Joyous
Since, you focus to keep colours within the lines, it helps in improving concentration and focus
Take your pick
There is a lot in the market that you could choose from, but here's our list, to help you make a choice:
Querkles, a puzzling colour-by-numbers book
Each poster-size page has several (hundreds) overlapping circles and some parts have a number on them. The numbers range from 1-5, one needs to colour portions marked '1'- the darkest, and '5'- the lightest. If you pick the right combination, you would have your own version of Andy Warhol art piece. (Hachette India)
The Hipster Colouring Book
This is a fun and cool collection of 80 pages that appeals to the hipster in everyone. An index tells you what page has illustration to an aspect of a hipster's life. Eg., what they keep in their vintage bag, how they like their shoes, how they get to work, and what they get up to at the weekend. It's a fun book. (Hachette India)
Colouring for Mindfulness Optical Illusions
So, this book has detachable postcards with illustrations which are optical illusions. Although it may look a little psychedelic, the book assures to calm your mind in just 5-10 minutes everyday! You could colour in as a book, or de-attach pages to do it in a group with friends. (Hachette India)
The official Game of Thrones colouring books
The end of the popular TV series has been announced, eight will be the last season for Game of Thrones. And here's what you can do instead of getting sad about it on the internet: Pick up this Game of Thrones colouring books and live major moments and characters. And we hear it is immensely popular with the boys, too. (Harper Collins)
The Art of Romance
It is every bit a romantic's dream. If you have grown up on a healthy diet of mushy Mills and Boons, here is a collection of the most iconic covers of the titles through the years. Also, if you want help, the actual covers are printed on the inside of the book's cover. Every illustration is accompanied by an information capsule about that era, for instance, it talks about the kind of hairdos or flare pants one wore in say 1970s. (Mills and Boon)
The Jaya Colouring Book
For the love of mythology, colour in this book. The book is an illustration by mythologist Devdutt Pattnaik, and it serves as a reading companion to his retelling of the epic Mahabharata, Jaya. The illustrations allow enough space for colouring strokes. It starts with the Ganesha writing down the epic as Vyasa narrates it, and know where it ends? To Yudhishtira discovering the Pandavas and Draupadi in Naraka (hell). (Penguin Random House India)
The Sita Colouring Book
There is more of mythology, in this colouring book for adults. The book is an illustration by mythologist Devdutt Pattnaik, and it serves as a reading companion to his retelling of the epic Ramayana, Sita. Even here, the illustrations allow enough space for colouring strokes. The most dramatic moments of the epic, like Ram breaking the bow to slaying of Ravana, the book fires up the imagination through the illustrations. (Penguin Random House India)
By Garima Sharma
Stay updated on the go with Times of India News App. Click here to download it for your device.