Because periodicals are now available in many formats, there are many ways to find them. If you are unsure about how to find a particular journal or magazine, ask a librarian for help.
To find the most recent issue of a newspaper, magazine, or journal, begin on the Web or in your library's current periodicals reading room. While many newspapers now make the latest news available on the public Web for free, some specialized journals do not put any of their content online.
Many old newspapers, magazines, and journals can only be found in the library, where they are kept on microfilm or in bound volumes. However, past issues of some journals are available on the public Web or through gated, online databases.
Gated Web
Full-text versions of many academic journals as well as some newspapers and magazines are available on databases to which libraries can subscribe. Because the materials they contain are under copyright, these databases are "gated"—that is, you cannot access the articles they contain on the free, public Web.
Most libraries subscribe to some online databases, and university libraries often subscribe to many of them. Subscriptions to these databases are expensive and give you access to a wealth of sources that are not available on the public Web.
You can use these databases—sometimes called a library's electronic resources—from any computer in the library. If you are a college student or have a public library card, you can sign in to the library's website, using your student ID or library card number, to access the library's databases from elsewhere.
Often, a library's website allows you to search multiple databases in a given subject area at once or to access a single database and search it alone. Here are a few of the major databases that provide access to periodical articles:
JSTOR
ProQuest Newspapers
Academic Search
Web of Knowledge (Web of Science)
Public Web
Some libraries and other organizations have digitized their paper archives, including periodicals, and made them available for free on the public Web.
For example, the University of Wisconsin Digital Collections have made the library's archives of some specialized periodicals, such as The United States Miller, a nineteenth-century trade publication from Milwaukee, available online. Here's a link to their website: http://uwdc.library.wisc.edu/index.shtml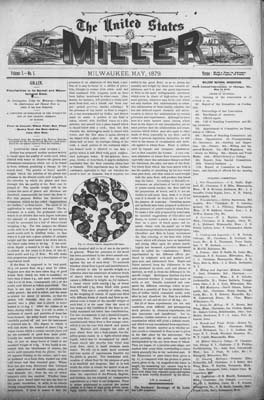 (click for larger version)
Source: The United States Miller. Volume 7. Milwaukee, Wisconsin: No. 1, 1879.
http://digital.library.wisc.edu/1711.dl/WI.USMillv07
Microfilm and microfiche
Many periodicals, especially ones that were printed on paper that disintegrates quickly because it is acidic, were photographed and stored on microfilm or microfiche. You can find these through your library's catalog.
Microfilm and microfiche are often kept in drawers labeled with call numbers. Sometimes you must ask a librarian to retrieve them for you from an area closed to library visitors.
Microfilm is a spool of film on which pages of text are stored in miniature form. To read microfilm, you thread the film into a microfilm reader in the library, which magnifies the images so that you can read them on a screen. Usually, you can pay to print individual pages.
Microfiche works on the same principle as microfilm, except the pages of text are kept on individual slides ("fiche") instead of spools of film. To read microfiche, you use a microfiche reader in the library, which makes the text legible on a screen. You can also pay to print pages from microfiche.
Bound periodicals
Paper copies of some periodicals are kept in bound volumes in the library. These bound volumes are usually labeled with title, date, and volume numbers. Before the advent of microfilm and, later, the Internet, libraries bound the paper copies of periodicals to which they subscribed and shelved the bound volumes in the stacks.
For example, libraries usually bound quarterly academic journals in volumes that contain the four issues from a given year. In some cases, you can check these bound volumes out, but in others you must use them in the library.
Special collections or archives
Some periodicals are stored in a library's special collections or archives. Usually these paper copies are non-circulating—that is, you must use them in the library instead of checking them out. The Wisconsin Historical Society Library's Pamphlet Collection, mentioned above, is an example of an archival collection that includes some periodicals.
Searching the library catalog for periodicals
To find periodicals in the library—whether on microfilm, in bound volumes, or in special collections—you must use the library's catalog.
If you know the title of the newspaper, magazine, or journal you need, try searching the library catalog by "journal title" or "periodical title"(rather than by "title" or "keyword").
If you want to find all the periodicals from a specific city or town, search for the place's name as a "subject heading" in the library's catalog.Scan the subject headings that result for subdivisions such as "—Periodicals" or "—Newspapers."
For example, in the University of Wisconsin Libraries catalog, a search for "Peshtigo" in "subject heading browse" leads to "Peshtigo (Wis.)—Newspapers," a subject heading that includes seven newspapers from Peshtigo.
The H.W. Wilson Company also publishes a very useful reference work called The Reader's Guide to Periodical Literature that can help you find useful periodical titles within your discipline.